"Drench yourself in words unspoken
Live your life with arms wide open
Today is where your book begins"
– Natasha Bedingfield, excerpt from "Unwritten"
Today, I can say that the book I have been dreaming about writing for many, many years is finally written, published and about to be released! The above except from Natasha Bedingfiled's 2004 hit "Unwritten" has long served as an inspiration, so much so that I included that quote in the introduction of my first book, Oh God of Second Chances, Here I Am Again, which will be released on October 18, 2022! 
Oh God of Second Chances, Here I Am Again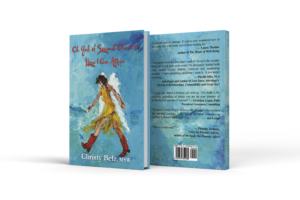 Oh God of Second Chances, Here I Am Again is about what it takes to get back up again and again. The book is based on personal life stories and weaves in wisdom, insight, data and practices collected over decades that have come through falling down more times than I can count and developing the courage, trust and mindset and Divine guidance it takes to get back up again and again. 
As we all know, life happens. We make mistakes and the universe hits us with cosmic two-by-four wake-up calls. We stumble and, perhaps, fall down—sometimes really, really hard. The question is not whether you will be knocked down by life. That is inevitable. The question is, how do you get back up again?
With so many second chances, Oh God of Second Chances, Here I Am Again explores the peace to be discovered in the present moment, knowing that there is always a way forward, regardless of current challenges and the inescapable struggles that we all get to encounter. It is what we do with it all that matters. We all get knocked down. And, through ever-present Divine grace—whether it be external or internal knock-downs (usually both!)—we all have the opportunity, over and over again, to get back up and face and embrace this messy thing called life.
As a professional business woman, a social worker, a friend, a wife and a mother, I appreciate that my life experiences are personal to me, but certainly not unique. We all have our challenges, personal struggles and specific areas in our lives that call for introspection, personal, professional and spiritual development, and, ideally, radical transformation. 
As a co-curator and coach for Women — TedxCherryCreek, I have been gifted the opportunity to work with extraordinary women who have also fallen down and gotten back up, again and again, which is why Oh God of Second Chances, Here I Am Again also shares several courageous stories of women who graced the TEDxCherryCreek stage. The inclusion of these stories will hopefully help you, too, remember that we all have our struggles and that we are never alone.  
Join Us For the Oh God of Second Chances, Here I Am Again Book Release Party! 
If you're in the Denver area, I'd love to have you join us for the book release party and signing at Metropolitan State University of Denver's St. Cajetan's on October 18, 2022. We only have the space to allow for 150 attendees, so if you're interested in a late afternoon/evening of cowboy boots, BBQ, and books with a good dose of vulnerability and humor, please RSVP by October 11, 2022. You can RSVP and find all the details here. 
Here is a beautiful synopsis of the book written by a professional colleague and friend, Jen Lester of Philosophy Communication, who has been of great support in the journey of taking this book from conception through publication that I feel honored to share.
 "Oh God of Second Chances, Here I am Again
A walk in ruby red cowboy boots
With three clicks of her ruby red cowboy boots, Christy Belz, empowerment coach, spiritual teacher and speaker, walks you through her journey from leaving a lucrative position in sales to her social work with women over the last two decades. "Oh God of Second Chances, Here I am Again" is a fresh and funny perspective providing personal stories that can help you expand your personal, professional and spiritual growth.
From the moment you pick up the book, you'll be drawn to start clicking your own ruby red cowboy boots."
Pre-Orders Available Now!
If you cannot attend the launch party and/or would like to pre-order your copy of Oh God of Second Chances, Here I am Again, you can do so through this Amazon link and this Barnes and Noble link. 
A Time To Color, Write and LIVE Outside The Lines!  
In closing, it feels appropriate to end this exciting announcement blog where it began with another excerpt from the beautiful Natsha Bedingfield's "Unwritten."
"…I break tradition
Sometimes my tries are outside the lines
We've been conditioned to not make mistakes
"But I can't live that way…"
I look forward to spending time with many of you at the book release party, and it is my sincere wish that Oh God of Second Chances, Here I Am Again lights you up, touches your soul, inspires you to click your ruby colored cowgirl boots three times, knowing that you are always home, and create a heart-centered life of love, meaning and purpose. And, above all, I hope it helps you remember that, no matter the struggle, you can always get back up and that you are never, ever alone. 
Blessings,
Christy