On a recent retreat, I was listening to meditation music that I had on my phone. It turned out to be a very special message for me, and I want to share it with you today.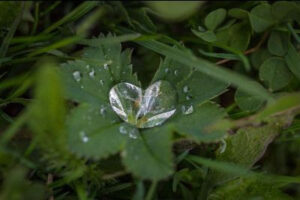 The album is called "Beyond" by Tina Turner. I highly suggest you download it for yourself!
As we all know, Tina asks the question, "What's love got to do with it?"
A Spiritual Message 
Beyond by Tina Turner
These are a few of the messages she shares in the meditation…
Nothing lasts forever
No one lives forever
The flower that fades and dies
Winter passes and spring comes
Embrace the circle of life
That is the greatest love
Go beyond fear
Go beyond fear
Beyond fear takes you into a place
Where love grows
When you refuse to follow the impulses
Of fear, anger and revenge
Be in the present moment to live in the beyond
Start every day singing like the birds
Singing takes you beyond, beyond, beyond
What does love have to do with it?
Love grows when you trust
When you trust love heals and renews
Love inspires us and empowers us to do great things
And makes us a better person to love
Love makes us feel safe and brings
Us closer to God
When you go beyond that's where
You find true love
Keep singing, singing takes you beyond, beyond, beyond, beyond
Love takes us beyond 
"Like a bird singing in the rain, let grateful memories survive in times of sorrow."
– Robert Louis Stevenson
Lucky Belz Crosses The Rainbow Bridge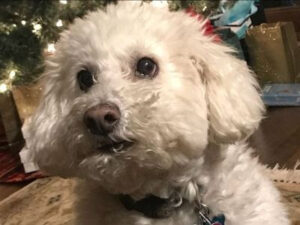 I feel fortunate to have been reintroduced to this meditation and beautiful chant at the moment I was. It has brought me great peace in a time of loss. I recently lost my dog Lucky. After 18 years, his little body was tired and he was ready to go across the rainbow bridge. If you have worked with me in person over the years, you know the magic that this little white dog could bring. 
He would sit with you on the couch. He would claw on the carpet under the table when we weren't going deep enough and he put his head on your leg to give you comfort when you needed it.  He knew instinctively how to provide comfort. 
For me, he was my constant companion, my source of joy, laughter, and comfort during very difficult times. We named him Lucky after picking him up from a dog shelter. But, I know that I am the Lucky one to have experienced his unconditional love.
Lucky has gone beyond.
"Nobody can fully understand the meaning of love unless he's owned a dog." 
– Gene Hill
Are You Feeling Called To Step Into Your Full Potential? 
If you're looking to increase self-awareness and uncover and uproot what may be holding you back from stepping into your full potential, I'm excited to share a quiz that I created. The UPROOT Quiz is designed to help you see how empowered you are, as well as any reactive tendencies you may have that stem from the root cause of your conditioning. If you have not worked with me in my UPROOT course, this is a great way to learn more about it and yourself. Also, for a limited time, I am offering a complimentary 15-min debrief of your results! Take the UPROOT Quiz now. 
Oh God of Second Chances Here I Am Again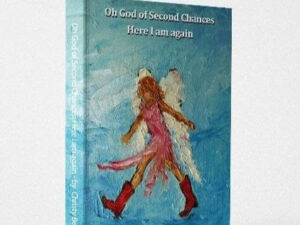 Finally—and this fills my heart with so much love and excitement and joy—I was in the studio last week recording the audio of my book, Oh God of Second Chances Here I Am Again. The soft cover and the Kindle versions of the book are also in the works! I will let you know when these formats become available!
Much love to each of you!
Christy