"Disorder can play a critical role in giving birth to new, higher forms of order."
– Margaret J. Wheatley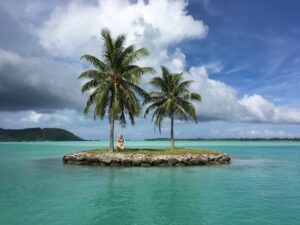 Are you feeling it?
It feels like everywhere I go—my UPROOT classes and retreats, in individual coaching and consulting work with organizations, in conversations with dear friends, and even at social gatherings—the sentiment is the same, with pretty much everyone expressing that it feels "scratchy out there." There are feelings of anxiety, uncertainty, disorder and an undercurrent of fear. And, it seems like almost everyone I know (including myself) is navigating a slew of different challenges, with old demons resurfacing, demanding attention, and new stressors surfacing, further complicating our already complex lives.
Are you feeling it, too?
A couple of months ago, I got into a conversation about all the unease and dis-ease that seem to be permeating all the cracks and crevices of our individual and collective lives these days with a colleague who sits on a community board of a nonprofit organization, and she suggested that I write about this "messiness" happening in the world. At one point in the conversation, she shared that she had recently asked other members of the board, who are all civic leaders, to reflect on what they were experiencing at this time. The words they used to describe their experience echoed mine, and included things like emotional unease, volatile, caught, overwhelmed and, my favorite, messy.
She also noted that one member of the board said opportunity, which got me thinking about one of my favorite theorists from my graduate school days, Margaret (Meg) Wheatley, as well as what we can do and create within the disorder, but the overall sentiment was definitely along the lines of messy.
I left that conversation inspired to begin blogging consistently again. The "busyness" that the spring and summer create, a foot surgery, being out of normal routine and all this messy craziness in the world had gotten me away from writing regularly, when connecting and vulnerably sharing our experiences is what we need more of than anything right now.
After a bit of a writing hiatus, as I felt into what was going on in the world, literally feeling off balance following that foot surgery, wondering how we can keep our hearts open even, and especially, when everything feels so overwhelming, I wrote and posted Finding Balance & Keeping Your Heart Open While Life Feels Like Hell last month. That blog, inspired by the words of Maria Shriver, the philosophy of Ram Dass and my own inherent understanding that the heart knows all, detailed how when we lead with our hearts and connect with curiosity, we're able to find and keep our footing, build community and better sustain ourselves so we can show up with more clarity during these particularly challenging times. I also mentioned Martha Beck reminding and encouraging us to stay the course. For me, and other leaders I know, that's staying the courageous course.
Staying The Courageous Course And Creating Islands of Sanity
Since writing that last blog, I've been thinking more about and feeling into what it means to stay the course—the courageous course—especially as a leader these days. When everything feels overwhelming, disordered and sometimes straight out insane, what do we do?
As I mentioned above, leader, teacher, author, theorist, warrior and overall badass Margaret J. Wheatley has been one of my favorites since grad school, and she's definitely a go-to for me when I'm in search of inspiration and action, especially when it comes to leadership.
Wheatley writes often about a term she named an "island of sanity." In her book, Who Do We Choose to Be?: Facing Reality, Claiming Leadership, Restoring Sanity, Margaret Wheatley wrote that an island of sanity, for many, is "an interior space bounded by our values, commitment and faith. This boundary is only visible in our actions; no matter where we are, we stand out as different, leading against the norm. We aren't intent on changing the world; we simply try to work in ways that honor people and evoke our best human qualities."
In a 2017 article titled, Who do you Choose to be? An Invitation to the Nobility of Leadership, which I recently reread, Wheatley writes more on the idea of islands of sanity.
Her introduction paragraph to the article immediately got me thinking…
"Several years ago, in the face of irreversible global problems and the devolution of leadership, I began to challenge every leader I met with these questions: Who do you choose to be for this time? Are you willing to use whatever power and influence you have to create islands of sanity that evoke and rely on our best human qualities to create, relate, and persevere? Will you consciously and bravely choose to reclaim leadership as a noble profession, one that creates possibility and humaneness in the midst of increasing fear and turmoil?"
Fast forward to 2022, and we need compassionate, heart-centered, inclusive, creative leadership more than ever. I love that Wheatley calls on us to rely on our "best human qualities to create, relate and persevere." I love that she invites us to create islands of sanity amidst an ocean of challenges. And, I appreciate that she calls attention to the challenges of climate change, hunger, political upheaval and violence as being overwhelming. Again, there's that messiness that most of us are feeling big time right now.

The second paragraph of her article got my cognitive wheels and heart spinning even more, thinking, again, about where we are today and how important it is, as leaders, for us to call upon this important part of Wheatley's work, which has had a significant impact on mine as a leader, coach and author.

Wheatley writes,

"We live in VUCA World defined by the U.S. military as Volatile, Uncertain, Complex, and Ambiguous. Every day we experience disruption, swerves in direction, short-term decisions that undo the future, propaganda, slander, lies, blame, denial, violence. Communities and nations are disrupted by terrorist acts, cumbersome bureaucracies cannot deliver services, people retreat in self-protection and lash out in fear, angry citizens strike back at their governments, leaders stridently promise security and outcomes that they know can't be delivered, tensions between people reach hateful proportions, and confusion and exhaustion sink us into despair and cynicism. This is the age of retreat: from one another, from values that held us together, from ideas and practices that encouraged inclusion, from faith in leaders, from belief in basic human goodness."
Even amidst all of these complexities, Wheatley continues to invite us to be "Leaders Who Persevere No Matter What" and "Warriors for the Human Spirit, leaders willing to defend and support people, leaders who remember and value what humans are capable of creating together. We need to turn our attention away from issues beyond our control and work with the people around us who are yearning for good leadership. We need to engage them in work that is within reach, that matters to them. We need to use our influence and power to create islands of sanity in the midst of this destructive sea. We can use our sphere of influence, however large or small, to do as Theodore Roosevelt enjoined us: "Do what you can, with what you have, where you are.""

As leaders and citizens committed to healing and ideally elevating the human and planetary experience for ALL, Wheatley stands firm in her assertion that we must create islands of sanity where we can "get good work done." I couldn't agree more.

In order to step into creating connection and order out of all the disorder, she asks us to consider thought provoking questions as we begin to create islands of sanity, beginning with considering who, where and how we engage in leadership. Perhaps it is in your office, your community, your school or even your home.

I went through these questions, finding them extremely helpful, and encourage you to do the same. As you get clear on where you're leading, consider the following. You may also want to journal as you contemplate the following questions, returning to those words often, and expanding on them as you learn more about, elevate, heal and grow your community and evolve as a leader yourself.

How are people relating to each other? Has trust increased or decreased? What is contributing to this?

Fear vs love- is one dominating more than the other? What role does fear play in your reactions? How can you move more toward love?

What invitations to contribute have you extended to others and why? How have people responded?

Is your group willing to be there for one another, to go the extra mile, or not? What's the evidence for any of your answers?

And, now these, which are specific to you as a leader in a world that is in dire need of less fear and more love, trust and genuine connection.

What is one small step you will take that empowers people to engage in work that is within their reach?

What can you, as a leader, offer on your island of sanity that will increase trust, foster love and connection and decrease fear?

What is the good work that you want to inspire others to participate in that will make a difference in the world?
Calling Warriors For The Human Spirit Onto Our Islands Of Sanity

Please share how you are creating an Island of Sanity! In the comments below, on social, with your groups, colleagues and friends!
Together, as Margaret so beautifully and aptly puts it, we are warriors for the human spirit.

I'll leave you, fellow leaders, with these words from the always inspiring Ms. Margaret (Meg) Wheatley…

"I know it is possible for leaders to use their power and influence, their insight and compassion, to lead people back to an understanding of who we are as human beings, to create the conditions for our basic human qualities of generosity, contribution, community, and love to be evoked no matter what. I know it is possible to experience grace and joy in the midst of tragedy and loss. I know it is possible to create islands of sanity in the midst of wildly disruptive seas. I know it is possible because I have worked with leaders over many years in places that knew chaos and breakdown long before this moment. These extraordinary leaders, with great effort, dedication and personal sacrifice, created islands of sanity where good work still got done and where people enjoyed healthy relationships in the midst of chaotic conditions, fierce opposition, heart-breaking defeats, lack of support, isolation, loneliness, and slander.
And I have studied enough history to know that such leaders always arise when they are most needed. Now it's our turn."
From my warrior heart to yours,
Christy
P.S. I have some exciting news to share!
I have been working on a book for the last couple of years, and it's finally being released on October 18! The book, Oh God of Second Chances, Here I Am Again is about what it takes to get back up again and again. As we all know, life happens. We make mistakes and the universe hits us with cosmic two-by-four wake-up calls. We stumble and, perhaps, fall down. The question is not whether you will be knocked down by life. That is inevitable. The question is, how do you get back up again?
When we stay the courageous course, with each step along the journey, a tapestry of hope emerges. Oh God of Second Chances, Here I Am Again explores the peace to be discovered in the present moment, knowing that there is always a way forward, regardless of current challenges and the inescapable struggles that we all get to encounter. It is what we do with it all that matters. We all get knocked down. And, through ever present Divine grace, we all have the opportunity, over and over again, to get back up and face and embrace this messy thing called life.
If you're in the Denver area, I'd love to have you join us for the book release and signing party at Metropolitan State University of Denver's St. Cajetan's on October 18, 2022. We only have the space to allow for 150 attendees, so if you're interested in a late afternoon/evening of cowboy boots, BBQ and books with a good dose of vulnerability and humor, please RSVP here.