"There are no extra pieces in the universe. Everyone is here because he or she has a place to fill,
and every piece must fit itself into the big jigsaw puzzle."
–Deepak Chopra 
I get these emails called Notes from the Universe every weekday morning. They continually crack me up and usually say exactly what I need to hear. Here's one that I have saved for a very long time and fits perfectly with my topic this Valentine season—self-love.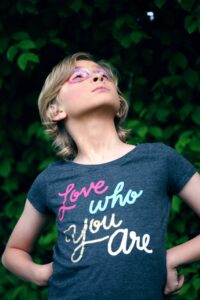 "It is like you are a fabulously complicated jigsaw puzzle piece with stunning colors, wildly serrated edges, oceans of emotions, mountains of possibilities, worlds of talent, and complex energies, but as long as you see yourself as just human, you never quite know where you fit in."  
" You're just a part of me, and knowing this, all else starts to make sense."
-The Universe
Since I was a young kid I've loved jigsaw puzzles and paint-by-numbers art kits. There's something about focusing on the smallest of things or areas and putting something together piece-by-piece or color-by-color that can keep me in the zone for hours.  Watching an area become more and more complete was (and still is) so rewarding. Finishing a project or a puzzle was always somewhat disappointing, however, as my investment had been committed and was often time consuming. I remember painting the Last Supper by number—it took me months! 
Fast forward a few decades and I still love these types of projects. In my home, I always have a puzzle on a table and now work on some of the most difficult puzzles possible. They are themed, have no edges and each puzzle had its own unique pieces that correspond to the theme. If you love a challenge, check out Liberty Puzzles, which are some of my favorites. 
Because of my love for puzzles, Jan Smith asked me to create a metaphor for my life based on my limiting beliefs about myself. Jan, who was my coach at the time, was quite brilliant in helping me use my love of puzzles as a way to reframe what is called a "default identity," which she defines as this.  
"Our default identity is invisible and has become a deeply ingrained declaration originating from childhood to make sense of selves, others and life circumstances." 
During that time I believed that I was weirdly different and ''damaged goods" based on early conditioning, low self esteem, heightened sensitivity and huge need to fit in. However, through this work with Jan, and using the idea of a puzzle with many, many different pieces, I was able to construct a new sense of self in relationship to myself, to others and to the world. 
The new identity for me looked like this:
I am a courageous intuit and a fascinated inquirer, which gives me the opportunity to see my unique piece of the puzzle as a much needed piece to the whole. 
Others are a jagged-edged piece of the puzzle and needed for the whole picture to come alive, which gives me the opportunity to connect the pieces into something bigger than either of us. 
What is the connected way, right now, that I can see the jagged (serrated) piece of (any issue) that gives greater possibility to what is available? 
Claiming Your Self-Love 
As women, so many of us love others deeply, but struggle to truly accept, love and celebrate ourselves. 
If you struggle with your inner critic and it's hard for you to fully love yourself, what is something you love and what metaphor could you use to reframe your perspective?  
Using the jigsaw metaphor has given me a tool to use in those times when I doubt myself, feel like I don't fit in or wonder if I am holding myself back and not contributing.  
Puzzles And Self-Love 
So how do puzzles and self-love fit together? Easily. There are many pieces that go into loving ourselves deeply, passionately and unconditionally. My continuing journey is always to find a way home to my heart, to my true self and to love and approve of myself regardless of how I am feeling or what is showing up for me.  
In her Psychology Today article, A Seven-Step Prescription for Self-Love, author Deborah Khoshaba, Psy.D writes, "Self-love is not simply a state of feeling good. It is a state of appreciation for oneself that grows from actions that support our physical, psychological and spiritual growth. Self-love is dynamic; it grows through actions that mature us. When we act in ways that expand self-love in us, we begin to accept much better our weaknesses as well as our strengths, have less need to explain away our short-comings, have compassion for ourselves as human beings struggling to find personal meaning, are more centered in our life purpose and values, and expect living fulfillment through our own efforts." 
Like the many pieces of the jigsaw puzzle, we learn to embrace all of ourselves, even the parts that we don't particularly like or believe to be unlovable. And, as we do so, we become more and more whole. Even if it is just a section or a circumstance at a time.  It takes all the pieces to be fully who we are and who we are intended to be—whole, perfect and complete.  
Happy Valentine's Day To You! 
This Valentine's Day, I encourage you to give yourself the gift of self-love, download this simple heart-shaped puzzle and start to complete the pieces with the words that describe you—all of you. Then see if this Valentine's Day you will love yourself enough—all of you—to embrace your beauty and brilliance!  
And, if you're struggling with the often complicated pieces of self-love, please reach out! I offer coaching for women locally in Denver and online for women all over the country.
Much love and self-love!
Christy