Are you thriving or does it feel like you are just surviving during this springtime of a pandemic? Are you planting or just burying your experience? Trying to manage change and live within a pandemic comes with much uncertainty, which can elicit feelings of stress, overwhelm and fear.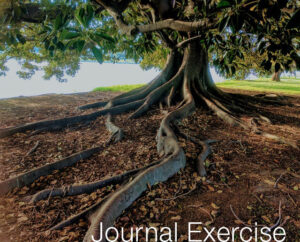 I find comfort in the changing of season from winter to spring because, without a doubt, we know that in the spring things below the surface are starting to emerge. We know that the leaves on the barren trees will bloom and blossom. We can be certain of this new growth because we have seen it over and over again.  
However, a global pandemic requires us to be with the unknown and the uncertainty, and so many questions come up. Is there an end in sight? Are we moving too fast trying to open businesses up and foster a new normal? Will this reoccur in the fall? What are the long-term effects on our front line workers? Will I or someone I know be significantly affected by COVID-19? 
These are all valid questions, and I am sure there are so many more.  
One major aspect of my coaching practice and leadership work is to help us reunite with and trust in something greater than ourselves.  
We must place our sense of wellbeing and our "need to know" in the hands of something greater. I love this classic verse from Ecclesiastes 3 King James Version (KJV).
"To everything there is a season and a time to every purpose under the heaven: A time to be born, and a time to die; A time to plant, and a time to pluck up that which is planted; A time to kill, and a time to heal; A time to break down, and a time to build up;  A time to weep, and a time to laugh; A time to mourn, and a time to dance; A time to cast away stones, and a time to gather stones together; A time to embrace, and a time to refrain from embracing; A time to get, and a time to lose; A time to keep, and a time to cast away; A time to rend, and a time to sew; A time to keep silence, and a time to speak; A time to love, and a time to hate; A time of war, and a time of peace.
Right now is a time to lean in and trust a greater unfolding.  
My curriculum course, UPROOT, is based on the symbolism of a seed and the parts of a tree. Just like the seasons, as with human development, there is a predictability to the transformation of the growth of the tree. 
Seeds, Trees, Roots and Wind 
We all begin as a seed—a spark of Divine essence that is pure and authentic. 
As we start to sprout, we make our way through the bedrock of life and deal with the dynamics of the environment, social conditioning and biological factors. All while, we're  hopefully receiving the nutrients we need to grow and survive. 
I love the story of the arboretum built in the 1980s in Arizona. Scientists set out to create the perfect environment for plants, animals and trees to grow. All the essentials were provided, including climate control, water, insects, nutrients and the sun. 
Seeds were planted. Roots took hold. Sprouts started to rise above the ground. All living things were seemingly thriving in this environment. That is until one day researchers entered to find all the trees laying on the ground.  
The researchers were baffled. However, as they looked deeper they realized that they had missed one very important element necessary for trees to grow tall and strong. 
They had overlooked the importance of including wind. It is the wind that helps a tree grow, develop and deepen strong roots—the very foundation of the tree. 
The analogy then becomes, if we are firmly planted, are watered, nurtured and cared for, humans, like trees, develop strong roots. When strong winds come throughout our lives, we're more able to remain firmly grounded, manage change and maintain equanimity. 
Just like a tree, we human beings need specific nutrients, and we need the strength of the winds of change to grow and develop strong roots for our lives. 
How To Grow While We Manage Change During COVID-19
When else in your life have you faced a headwind or a huge gust of wind that may have felt like it was blowing you over? Have you ever faced a big challenge with your family, friends, work or your health? Have you ever been fired or lost your job, or what about the death of a loved one? Were you able to continue to grow and develop through that process? 
The COVID-19 pandemic has brought gale-force winds to our sense of wellbeing, our daily lives, our work and families. It has brought great uncertainty, negativity and a seeming loss of control. The winds are limiting our ability to fully live life as we knew it just 60 days ago. This is a storm like we have not experienced in our lifetime. We do not have the predictability that comes with a change in seasons. But we do have a choice about how we handle ourselves and connect with others in these times.   
Richard Rudd of Gene Keys writes 
"There is a dervish inside each one of us, and that dervish was born for moments such as these. The dervish loves the storm. She enters it with her arms flung wide and feels its rush thundering through her heart and soul. For the dervish, the storm is ecstasy.  She surrenders completely to its rotating, elemental power and thus gains access to the mystical eye at its core. Here within the eye of the storm, all is quiet and peaceful. The nature of being is fully embraced." 
Right now there is a call to surrender and to cultivate the willingness to stay present and curious. I invite you to ponder on what you are sowing in your thoughts. We need to embrace this time and remain curious as to what is needed to maintain our sense of self and grow and blossom in this season of life. How can you reclaim your most authentic self and blossom and grow into who you are meant to be?
In my curriculum, I start with the questions of thriving or surviving and then address if you were buried or planted as a child. For more information on this, see my blog, Are You Thriving Or Just Surviving? How To Thrive In Today's Whirlwind World. This work helps us identify where we are in our human development and our conscious growth. It helps to uncover what is truly being called forward from the whole, perfect and complete seed called you.  
Through this work, the metaphor of the tree takes my clients on the journey of conscious and human development. This Empowerment Tree—UPROOT—Ultimate Potential in your Relationships, Organizations, Opportunities and Transformations to live your greatness life. 
This Empowerment Tree was planted nearly 30 years ago when I decided to pursue my passions of personal, professional and spiritual growth. It represents the body of work that has been grown, cultivated and nurtured. The path of its development has weathered many a storm, and plenty of sunny days. The Empowerment Tree is the roadmap of how we as humans grow through life. 
Thoughts Create Reality 
What I know for sure is that what we plant blossoms, and our thoughts create our realities. One thing I do and have done for decades now is to journal three longhand pages every morning as a means to process my experiences and feelings. Being with myself, my thoughts and my journal first thing in the morning opens me to uncovering new meaning and answers in the midst of chaos and confusion when dealing with things uncertain and how I manage change.  
Journal Exercise
As a gift to you during these unprecedented times, I created a downloadable worksheet with questions for you to consider. My intent and hope is that you will take time for yourself and use these questions as a journal exercise to help you get clear about your experience and feelings about what is happening now in your life.  
Download the journal exercise worksheet, Leaning Into The Wind: How To Manage Change, Grow And Thrive In The Springtime Of Pandemic, now. 
Grow Through Life   
Spring is a beautiful time of the year, and I firmly believe that COVID-19 is here to give us pause. It has showed up to offer us time to reflect and renew and to evaluate what is working in our lives. We're in a time and space to consider how we manage change (see my blog Are You Resisting Change Or Embracing Change? How To Lean Into The Chaos And Be With Something New) and the gale-force wind of social distancing, mask-wearing, the loss of loved ones and seeming loss of freedom that have come with it these last few months.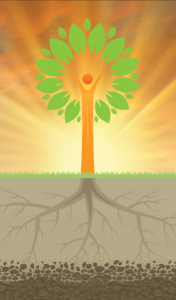 Minister, author and radio personality Eric Butterworth says, "We are here to grow through our lives, not just go through it." Like the trees in the arboretum, we cannot grow and develop toward our ultimate potential if an essential element is missing. Without the winds of adversity, we can't grow as tall as we are meant to be. 
If you would like to learn more about the UPROOT course, please sign up on my website for my newsletter and consider enrolling in my course. Classes begin in early 2021. Through UPROOT, you can develop your Ultimate Potential in your Relationships, Organizations and open up to Opportunities that lay before you to Transform your life to your greater yet to be.
Some of us were planted as children. Others were buried. Which were you? 
If you are planted, you most likely had nurturing as a child and the support you needed when the strong winds blew. If you are buried, you may not have had all your needs met, and times of uncertainty may have you feeling like you're being blown over. If that's the case, I am here to help. 
There is an old saying, "How you handle anything is how you handle everything." How are you handling this virus and all the changes and challenges that have and continue to come with it? Although difficult, for sure, now is a time to deepen roots and grow. 
Love and light,
Christy